At Carrollton Vision you will receive a complete and thorough medical examination of the health of your eyes.
The exam generally includes a measurement and prescription for eyeglasses when necessary. We also offer contact lens exams and Lasik co-management; as well as treatment of eye diseases, glaucoma management, cataracts, diabetic eye evaluations and other eye health emergencies. We accept adults and children ages 5 and up.
We also offer a full service optical selling glasses and contact lenses. Some of our frame brands include Ray Ban, Polo, Coach, Vogue, etc. Our partnered optical lab is Zeiss, delivering the highest quality products.
Comprehensive Eye Examination
A Comprehensive eye examination is a thorough assessment of your visual health along with the determination of a prescription for glasses if necessary. You will also be screened for any eye disorders such as allergies, dry eyes, glaucoma, and diabetes. Vision screenings that are performed by a school nurse or your employer are not the same as a comprehensive eye exam.
Contact Lens Fitting
We fit a wide variety of contact lenses, including popular brands such as Acuvue, Ciba, and Coopervision.
Soft contact lenses
Astigmatism contact lenses
RGP or hard contact lenses
Monovision or bifocal contact lenses
Laser Vision Correction Consultation
We provide initial consultation, pre- and post-operative examination for laser vision correction. Laser vision correction may eliminate or reduced the need of glasses and contact lenses for most patients. Ask us for more information on the different type of procedures (LASIK, PRK…) and if laser vision correction is right for you. To learn more about LASIK contact us or click here to read more.
Medical Services
Some of the medical services we provide include the diagnosis and/or treatment of dry eyes, eye allergies, conjunctivitis (pink eyes), blepharitis, glaucoma, cataracts, macular degeneration and diabetic retinopathy. We also provide emergency services for eye infections and injuries. We offer a vast array of diagnostic testing:
Retinal Photography: One of the most practical instruments to ever be developed, this unit provides an enlarged image of the retina.  This invaluable examination aids in the detection and documentation of a vast array of retinal conditions such as diabetic retinopathy, glaucoma, macular degeneration, etc.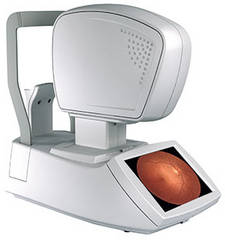 ---
Specular Microscopy: This test provides an analysis of the innermost layer of the cornea, known as the endothelium.  Analyzing this layer helps to detect various conditions such as Fuch's dystrophy, corneal guttata, contact lens induced complications, etc.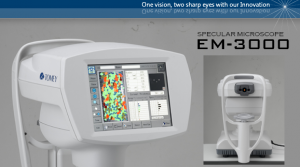 ---
Visual  Field Analysis: This is an examination of an individual's functional central and peripheral vision, and is used to monitor vision loss due to a variety of conditions such as glaucoma, macular degeneration, etc.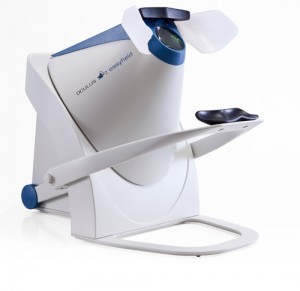 ---
Scanning Laser Ophthalmoscopy: With the use of an advanced diagnostic laser, this test takes an objective scan of the optic nerve and retina to allow for early detection of glaucomatous conditions and macula edema.
---
Emergency 24hr Service
For medical emergencies after hours, please dial 911 or proceed to the nearest hospital emergency room and ask to see an Optometrist or Ophthalmologist on call.